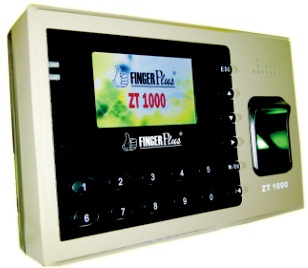 FingerPlus ZT 1000 is an innovative biometric fingerprint reader for Time & Attendance applications, offering unparalleled performance using an advanced algorithm for reliability, precision and excellent matching speed. The FingerPlus ZT 1000 features the fastest commercial-based fingerprint matching algorithm and high-performance, high-image quality optical fingerprint sensor. The 3 inch TFT can display more information vividly, including fingerprint image quality and verification result etc. Communication to PC with USB Cable or SD card can be easily done within several seconds.
Specification :
Function :  Time Attendance
Finger Capacity : 5.000 Template
Fingers Per User : Up to 10 Fingers
Transaction Memory : 50.000
Sensor : Optical Crystal with BIO + Sensor
Verification Speed : < 0.7 Second
Verification Option : Finger, Password, Combination
Cabel Comm. : USB Cable
Non Cable Comm. : SD Card
FAR : 0,00001%
FRR : 0,0001%
Network Capacity : TCP/IP = 255 units
Working Mode : Stand Alone
Power : 100-240V, 50/60Hz, 5Vdc
Size : 180X120X50 mm
Optional : UPS Battery 5 Volt
Software Time Attendance Featured : in/out, Late, Early, Overtime, leave, Multi Shift, Absense, Time Attendance Percentage per User and department, etc With Indonesian/ English Language
Include : Simple Payrol With Indonesian/ English Language
SDK Ready
Start from here and click on next tab.